Many medicines, even essential medicines, are not licensed for paediatric use. The use of unlicensed and off-label medicines for children has been common practice for years, meaning that children often may not receive medicines of the same quality, safety and efficacy, compared to adults. Many medicines used in children have not been adequately developed in paediatric indications resulting in "off label" use of adult medicines in children.
Additional challenges that specifically relate to the development of paediatric formulations include:
Avoiding certain excipients
Consideration for children with swallowing issues
The need for medicines which allow accurate and flexible dosing in children
Many medicines need to be manipulated by parents and carers,  to achieve the correct dose, for example tablet crushing/splitting, liquid diluting and capsule opening into food or drinks. This can lead to inconsistent and under/over dosing of medicines, risking children's health.
Our current research and development projects include developing epilepsy and heart failure medication for children, whilst further developing medication for children with neurodisability (for example cerebral palsy), to improve their quality of life.
'We are a Family of Passionate Pioneers'
At Proveca our vision is to provide licensed medicines which have been designed specifically for children.
As part of our research and development programmes, we evaluate novel pharmaceutical formulations to improve dose flexibility and administration, to ensure better acceptance of medicines in children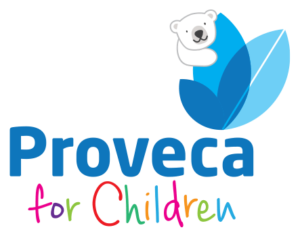 We are also passionate about raising awareness and increasing funds for children's charities, aiming to improve the lives of children. In January 2020, coinciding with our 10th anniversary, the Proveca children's charity fundraising initiative was set up to support the valuable work undertaken by children's charities.
Welcome to the Proveca Values:
In 2018, after Proveca had been a commercial organisation for a little over a year, it was felt that it would be beneficial for the company to reflect on who it was, what it had become and what it wanted to be in the future.
The initial research involved an expert (Tim Reid) interviewing 16 people from across the business and across the EU to get a feel for what Proveca meant to them.
From those interviews, the information gained was condensed to a "strapline" that encompassed three core values:
Family, Passion, Pioneering
So, what do these three core values really mean to us?
What Family means to us
While many business cultures are about co-operation between individuals who may be ultimately competing with each other, being part of a family is about having a vested interest in each other's success and wellbeing.
Creating a family requires deep (not superficial or fleeting) relationships, a real interest in individuals as whole people (not just roles or skills) and a healthy blurring of the lines
between work and play.
The payoff is real trust, unquestioning support, no hidden agendas and genuine enjoyment of each other's company.
What Passion means to us
Being passionate means truly believing in what you do and why you do it.
It's a rare and special organisation that can claim its teams are passionate about their work and their Company.
Having a complete emotional commitment to your job means remaining passionate about it long after 5:30pm.
What Pioneering means to us
Being pioneers is about leading the way, doing things that haven't been done before, being first.
But in order to achieve that, pioneering needs to be a way of being, not a one-off act. Pioneers need to be comfortable not having evidence of previous success or established protocols to follow.
They need to have a clear plan but adapt or even abandon that plan in the face of what they encounter.
They need a 'learner' mindset – the curiosity to try things out and understand what they don't know.
While pioneers have a drive to be first, they are also happy to be followed by others and to celebrate being a catalyst for change.
UK-NON-22-0040
Reviewed March 2023