Proveca Charity Initiatives
Proveca Charity for Children
Proveca for Children was set up in January 2020, coinciding with Proveca's 10th anniversary.  As a group of passionate pioneers, we run a series of events to raise much needed funds and awareness for a number of children's charities. Our mission statement is Raising funds and awareness for charities who improve the quality of life for children.
Every year, 2-3 small children charities will be chosen for support from Proveca for Children. In 2020 we have chosen the following charities from UK and Ireland.
Children's Palliative Care Team (Star Team)
Covering Manchester, Patient centered rather than disease focused, death accepting but also life enhancing, a partnership between the patient and family, concerned with managing rather than curing.
The Children's Trust
'The Children's Trust is the UK's leading charity for children with brain injury. They provide rehabilitation to help children from across the UK make the best recovery possible after a serious accident or illness, both at their national specialist centre in Tadworth, Surrey and in the community. They also run a special school for children with profound and multiple learning difficulties and provide transitional medical care to children with complex health needs. They have an extensive research programme and provide online support for families across the UK.'
CRC – Central Remedial Clinic
We are one of the largest organisations in Ireland dedicated to the achievements, wellbeing and health of people with physical disabilities.
Academy of Children's Art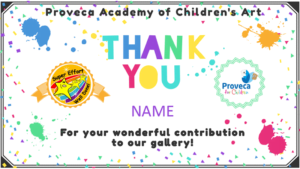 Proveca for Children has recently launched an online Academy of Children's Art. The Academy has been developed to encourage and engage children with complex needs to express themselves freely using any medium they wish to choose. To find out further information and to view the current pilot Academy of Children's Art please click on the certificate.
Please note that this is an internal committee of Proveca employees and not a registered charity.
Visit our gofundme page to learn about our planned activities / events, updates and to donate: https://gofund.me/fc9c86b5
If you have any questions or suggestions, please get in touch with the committee Chair maryamshah@proveca.com
UK-NON-22-0061
Reviewed June 2022